Here you will find important and useful information for your personal preparations at Intersec. In case of further questions, we and our service partners will be pleased to help you. Please have a look at the exhibition planner which gives you tips & tricks how to prepare for your exhibition. 
Booking and Pricing
Book before 27 February 2020 and avail from the early bird rates.
For space inquiries contact the sales team

Raw Space - starting at 475 USD/sqm
The Raw Space option does not include any 
stand fittings, flooring or electrics, but enables 
the exhibitors to create their own individual stand build.
Space in the concourse - 700 USD/sqm
raw space in front of the main entrances of halls 1-8
Maxima package - starting at USD 575USD/sqm
The Basic option includes floor covering, octanorm stand build (panels are 2,5m high and 91cm wide each), fascia name board, 3 spotlights per 9sqm, an electricity socket, and catalogue entry for the website, printed catalogue and mobile app listings.
Outdoor Space - starting at USD 150USD/sqm
Display larger exhibits such as trucks, cars, barriers, watchtowers, outdoor surveillance systems or other larger items, contact the Show Team for live demonstrations.
Already an exhibitor?

Organize your successful participation through the following Free online services and get the maximum ROI of your presence at Intersec.

1. Exhibitor Online Orders (E-Net)
This is where you enter your company details for the official show catalogue & mobile app; place all technical orders for your stand (electricity, rigging, carpet, etc); and place all orders for additional services (temp-staff, translation, lead scanners, etc). Password: the password/ login details will be sent to you from the show organizer. For any questions, please get in touch with  Ms. Maria Macale  maria.macale@uae.messefrankfurt.com
Create customized e-invitations, download banners,  signatures and logos; and upload your editorial content to be used in the Intersec newsletters
3. Business Matchmaking programme
Use the programme to find the right visitor for you and set up meetings with them before the show
Build-up & Dismantling
Build-up
21 - 23 January, 2021
The set up for Intersec will commence on 21 January, 6:00 AM whereby this first day is reserved for stand contractors only. Exhibitors with shell scheme stands may decorate their booths with product displays during the afternoon of 22 January. The halls are open 24 hours. Exhibitor passes can be collected onsite from the entrance of Hall 4, where also the organizer's office is located. Stand contractors and labourers will access the halls from the loading bay area and can obtain passes from the World Trade Center Security Office located at the gate to the loading area. A labour card is requested
Dismantling
27 January, 2021
Products should be removed from the stands immediately after the fair closes at 6pm on Tuesday, 26 January. No guarantee can be taken for products left on the stands. The stand construction has to be removed by noon of 27 January. Vehicles will be allowed to enter the loading bay area from 7pm on 25 January.
IMPORTANT NOTICE: Any person who wants to enter the exhibition halls during build-up or dismantling will have to wear a safety vest. A strict "NO VEST – NO ENTRY" Policy will apply. We advise you to bring high-vis safety vests with you as part of your preparation to avoid facing issues entering the exhibition halls during build-up.

Contact:
Phone: +971 4 389 4530
The Premium Club
The Premium Club at Intersec is an invite-only programme providing select buyers and influencers in the purchasing process from specific industries the opportunity to enjoy complimentary benefits during their visit to Intersec 2020. Find out more.
Sponsorship & Branding Opportunities
Your brand can go places if it has a good starting point.

A multitude of high-value sponsorship opportunities are now at your fingertips! Simply request for our easy-to-use, detailed Sponsorship Brochure featuring visual examples for your convenience.
Request for Sponsorship Brochure

To know more about the sponsorship packages, contact the Sponsorship Team today.
Opinions that matter
The Middle East market is very important to Seagate, which is why we are at Intersec to showcase our products and importance to the surveillance market. Our focus at Intersec is to engage with the wider surveillance channel whether that be ecosystem partners, distributors, system integrators, end user and so on.
Intersec provides an important platform for engagement and interaction with leading international experts and plays a key role in enhancing the safety and security of the region.
Intersec is a very important platform for Huawei because it enables us to show the capabilities of Huawei solutions to the majority of customers who are interested in different industries, so we have seen some customers who are interested in Safe City, Smart Transportation, Education and Hospitality. So Intersec as a platform enabled us to bring all these industries here and talk to them.
Intersec has always been a great platform to meet existing partners, build a relationship with them and also find some more potential partners new to Infinova. Intersec has always been a good experience for us.
Intersec is always very good as we bring our innovative machines and new ideas and we cater to the majority of our clients globally through this show. The Middle East market has always been excellent for us years after year and this year has been no different.
Intersec presents a big opportunity to display our products to International buyers. This is our 4th year at Intersec and there has been a great surge in International visitors which has given us some great leads.
It is always been a great opportunity to attend Intersec as a System Integrator to find new products and propose latest trends and technologies to our clients.
Intersec is a very important platform for us to showcase our products and our solutions not only to the Middle East but worldwide. Initially, it helped us to introduce our products into the Middle East market and now it helps us to meet all our current and prospective customers once a year.
Intersec is a very impressive and comprehensive show. It's a networking trade platform for industry leaders, especially for the PPE and Rescue divisions. We will definitely visit the show again.
Intersec is a must visit show for all the Security & Safety industries. It's an excellent platform to find wide portfolio of CCTV and high quality leads
Visiting Intersec gives us the opportunity to have face-to-face meetings with international leading suppliers and manufacturers and find the latest technologies and solutions in the IT industry
At Intersec we stay up to date with the latest technologies and the growth of the market, we discover new solutions and engage with new industry professionals and expertise to get advise on security solutions to enhance our business
Intersec gives us the opportunity to meet with potential customers from the region and far off countries, enabling us to grow our business.
We are always excited to be exhibiting at Intersec Dubai, each year it becomes a more pivotal international exhibition whilst still maintaining its regional focus. The platform of Intersec provides the tone for the year and we look forward to many more years of participation.
Personally, I consider Intersec as the most important event for the development of the security business in the Middle East, Africa and beyond, as well as the fair with the best cost-benefit ratio on a global level.
Pelco's partnership and attendance at Intersec 2019 was a success. We saw an increase in our year-over-year quality meetings and established valuable contacts with our end-users. Since the Middle-East is a growth region for Pelco, we consider Intersec to not only be among the most valuable tradeshows in our industry but it is also a vital platform that enables the promotion and adoption of our end-to-end solutions.
IDIS's participation at Intersec is strategic in our success in the Middle East and North Africa. We saw a significant increase in visitor numbers in 2019. Much of our continued growth, key partnership agreements, and customer successes in the region is a result of exhibiting at Intersec over the last five years.
Our experience with Intersec has been excellent from the first year of participation. Over the course of two days, we are able to not only make new valuable contacts and strengthen our existing partnerships but also showcase our solutions to the right audience.
Messe Frankfurt against copying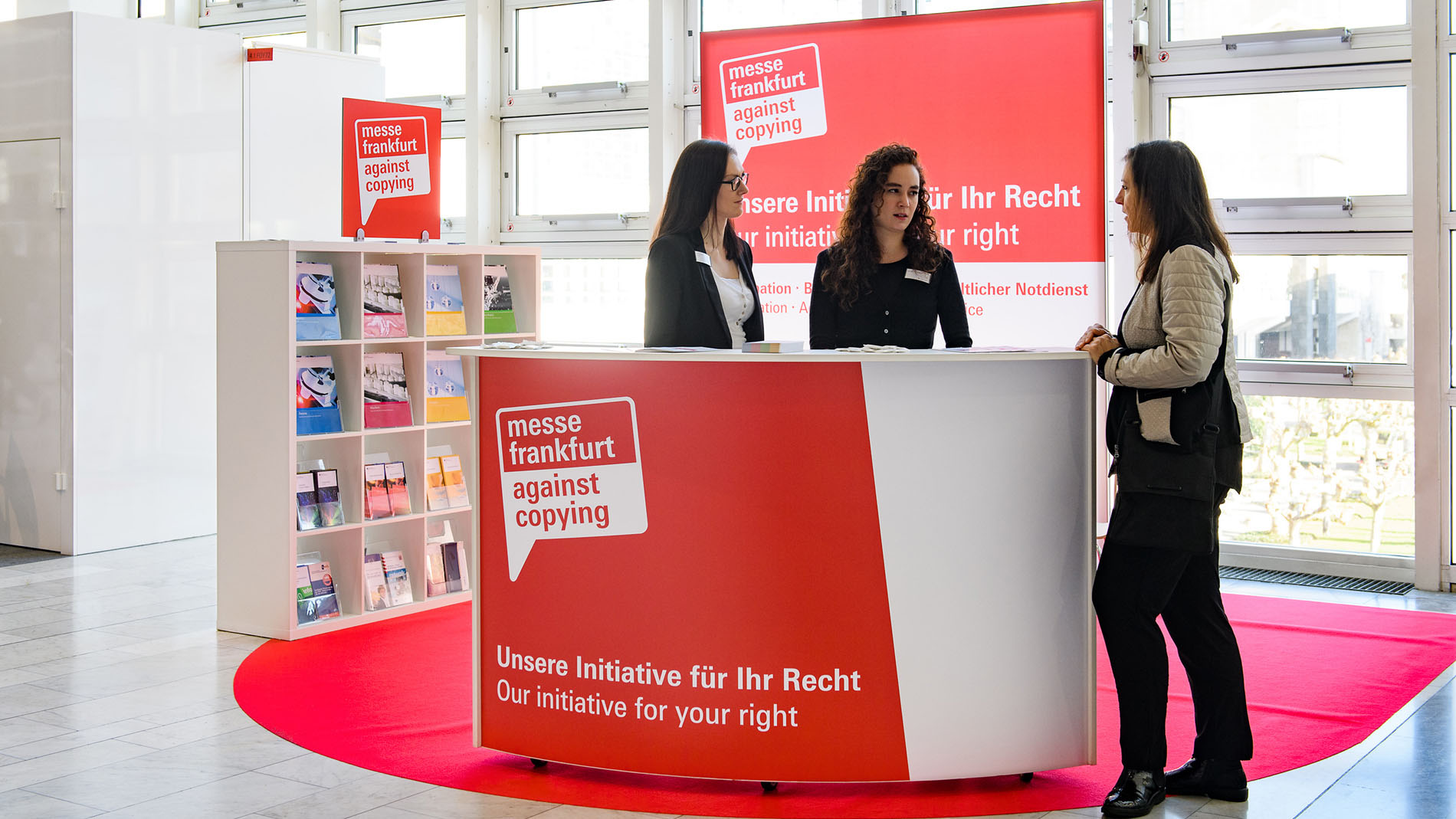 In 2006, Messe Frankfurt became the first trade fair organizer worldwide to launch an initiative against brand and product piracy. This initiative aims to ensure that exhibitors and visitors are fully informed about the registrations and assertion of intellectual property right.
Read more
Important Exhibitor Warning
To protect the privacy of our stakeholder Messe Frankfurt Middle East GmbH does not sell attendee or exhibitor list data for any of our events. Email solicitations from 3rd parties claiming to offer access to names/contacts of the "attendee database" are completely fraudulent, and are in no way associated with Messe Frankfurt Middle East GmbH.
Be advised that if you receive an email from any company indicating that they are in possession of attendee lists for any of our events then this is fraudulent information as they do not have access to our lists, nor do they have permission to use our brands to sell any such lists. We suggest that you ignore them and report it to your local trading standards agency.