The world's leading trade fair for Security, Safety & Fire Protection
Intersec is where business, technology and innovations come together.
As the leading trade fair for Security, Safety & Fire Protection, Intersec's influence has spread not only across the Middle East, Africa and the Indian subcontinent but has gone well beyond. Record breaking over 34,800 visitors (+20%) from 135 countries attended the 21st edition of Intersec in 2019 to meet with more than 1,200 exhibitors.
Commercial Security, Information Security, Smart Home, Fire & Rescue, Safety & Health, Homeland Security & Policing, Perimeter & Physical Security products and innovations come together in one place. For major brand manufacturers, newcomers, local or international, Intersec, with its unique product diversity, is one of the most important industry meeting points and a source of technologies for wholesale and retail trade as well as for corporate buyers and the government.
Intersec 2019 Show Videos
The Intersec App - your pocket guide!
The official Intersec App is a navigation tool that allows visitors to find the location of exhibitor stands at the show. It provides a user-friendly overview on your mobile device through a 3D floor plan and includes show highlights, themed tours and many interactive contact options. Be where you want to be, with one simple download.
The Intersec App will help you navigate through the show and locate the stands you wish to visit with ease. Learn more
Opinions that matter
Due to its importance and cooperative role in making Dubai a sustainable and safe city to live in, Dubai Municipality is delighted to participate at Intersec as a key event sponsor.
Intersec provides an important platform for engagement and interaction with leading international experts and plays a key role in enhancing the safety and security of the region.
Intersec is a very important exhibition for us in the Middle East, we have been participating for the last six years. The response has been strong and we see this as a market with a bright future.
We have launched two new products at Intersec 2018, the Aperio H100 wireless access control and the CLIQ, - a mechatronic cylinder that is managed through an app, which got so many response.
We were delighted to participate at Intersec 2018, we featured our latest fire safety products as well as our range of security solutions and equipment. We have also demonstrated to visitors a realistic simulation of hazardous situations with the help of our LED screen.
As with the previous editions of Intersec, it's been great and that's a clear indication with us investing year and year again that we find value and our partners, find value in having a stand of our own while displaying and portraying our products.
It is always been a great opportunity to attend Intersec as a System Integrator to find new products and propose latest trends and technologies to our clients.
Intersec is very helpful to gain high level of trust from our clients by giving them right solution at the right time. Thank you Intersec!
Intersec is a very impressive and comprehensive show. It's a networking trade platform for industry leaders, especially for the PPE and Rescue divisions. We will definitely visit the show again.
Intersec is a must visit show for all the Security & Safety industries. It's an excellent platform to find wide portfolio of CCTV and high quality leads
Visiting Intersec gives us the opportunity to have face-to-face meetings with international leading suppliers and manufacturers and find the latest technologies and solutions in the IT industry
At Intersec we stay up to date with the latest technologies and the growth of the market, we discover new solutions and engage with new industry professionals and expertise to get advise on security solutions to enhance our business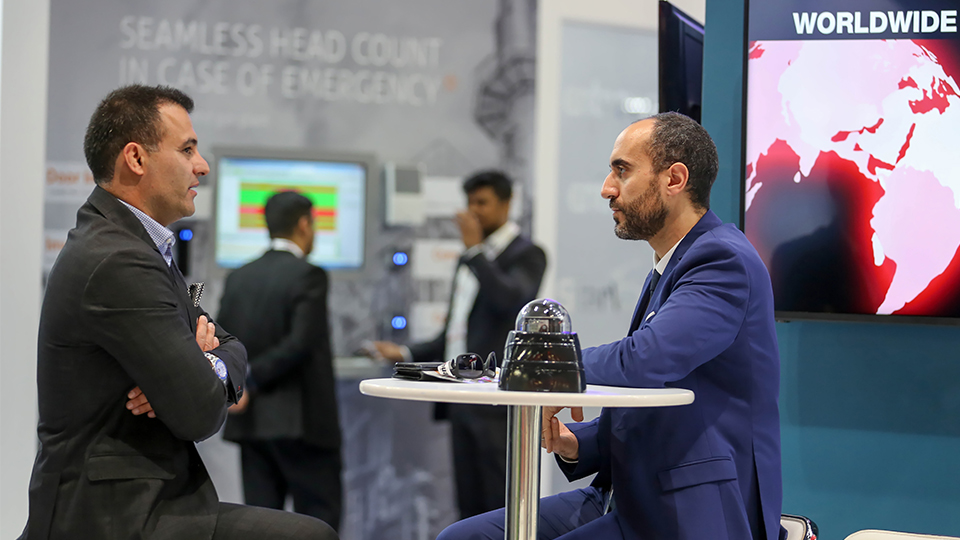 Take advantage of pre-registering as a visitor

Search for exhibitors based by company, products or country of origin
Identify which exhibitors you want to meet at the show
Schedule your meetings before you arrive
As a pre-registered visitor, you are automatically profiled into the Business Matchmaking Program. Our team will assist you and confirm these meetings before the show.

View Visitor BMM Brochure