24th edition of world's leading trade fair for safety, security, and fire protection brings together more than 800 exhibitors from 55 countries
Three-day show at Dubai World Trade Centre features Attack Zone, Security Leaders' Summit and industry innovation
Drones in focus as homeland security, public safety and cybersecurity all under the spotlight 
Dubai, UAE: A Middle East security innovation implemented at last month's FIFA World Cup Qatar 2022 could be the future of public security at major events to ensure easier and more efficient travel as well as a safer, problem-free visa process, according to Helmut Spahn, FIFA's Director of Safety, Security, and Access.  
The digital Hayya Card was implemented in place of an entry permit throughout the month-long world football showpiece in Qatar, providing authorities with key security data, including fans' travel and accommodation plans and ensuring every spectator was accounted for.
Addressing a high-powered Security Leaders' Summit on the opening day of Intersec 2023, which runs at Dubai World Trade Centre (DWTC) until January 19, Spahn discussed the key takeaways of last month's tournament and the lessons that can be implemented in at major events, including the next World Cup in 2026, which spans three countries across North America, in US, Canada and Mexico.
"This was my fifth World Cup and each one is unique," said Spahn. "At the end of the day, it's all about teamwork, stakeholder engagement, and preparation. The 2026 event will be different as we go from hosting in one city to hosting across an entire continent, so, from an organisational point of view, there is not so much we can take away.
"We did have a couple of security features like the Hayya Card, which was a replacement for visas and made travel really easier, so maybe that is something we can also introduce in Canada, Mexico, and the US. It will be difficult, we know the political situation – especially at the border between Mexico and the United States – but sports can be a driver and change things."
Attack Zone Draws Crowd
Elsewhere at Intersec 2023, which has brought together more than 1,000 exhibitors from 55 countries, The BRE Group, which delivers rigorous services, standards, and qualifications, ran its first day of the Attack Zone, demonstrating to captivated delegates the resistance assessments it carries out before its Loss Prevention Certification Board (LPCB), awards internationally recognised security ratings to companies offering security solutions.
It is the first time the BRE Group has performed live demos at the world's leading trade fair for safety, security, and fire protection in Dubai.
Working behind a Perspex screen and faced with two standalone Assa Abloy steel doors – one uncertified; one certified – a BRE tester used a series of tools, from hammers and hacksaws to crowbars and axes, to attempt to open each.
The tester broke through the uncertified door within minutes, smashing the lock as well as forcefully removing the hinges with a screwdriver. Moving to the certified door, several additional security elements were highlighted as the tester struggled to gain access.     
"Live Attack Testing is the No1 attraction at security shows worldwide and for us Intersec is, certainly by size, the biggest show in the world. It pulls from Africa, Middle East, the Gulf region, Russia and of course India, so it puts us in front of a huge market," said Richard Flint, Technical and Business Development Manager, Physical Security, at BRE Group.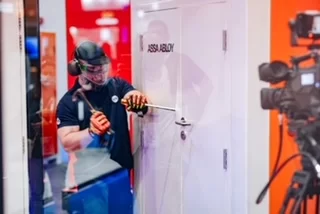 Sheikh Mansoor Officially Opens 24th Edition
Earlier in the day, His Highness Sheikh Mansoor bin Mohammed bin Rashid Al Maktoum, Chairman of the Dubai Council for Border Crossing Points Security, had opened the show, the 24th edition of the world's leading trade fair for safety, security, and fire protection.
His Highness toured the exhibition, which spans 10 halls at DWTC, and visited the Dubai Police stand, where he was briefed on the force's latest public safety solutions. As part of the tour, he was also briefed by executives from Saudi Arabia's National Security Services Company (SAFE), on the latest initiatives to elevate the standards and image of the kingdom's security sector, the Dubai Civil Defence stand, the German and UK pavilions, Security Industry Regulatory Agency (SIRA) and NAFFCO, the Dubai-based leader in manufacturing firefighting products.
D-Fend Reveals Drone Incident Tracker
Meanwhile, on the Tech Stage, drones were in focus as D-Fend Solutions, the leading global provider of cyber-takeover, counter-drone solutions for sensitive and challenging environments, outlined the multiple security risks now in play as a result of the growing use of drones.
By focusing on the most dangerous drones, its technology enables organisations to maintain full control, safety, and continuity during incidents, while also preparing for future threats.
"Drones have been used not only in a war arena, but also for law enforcement. In terms of homeland security, the FBI is treating drones as a real and immediate threat within the country," said Udi Lowy, adding his company has created an air drone incident tracker to monitor threats around the world.
Lowy also spoke about the various types of drone threats, including off-the-shelf, store-brought drones that can be weaponised. Explaining how sensitive environments – a public event, for example – would require a solution that does not disturb the environment, D-Fend provides a system that mitigates risk after evaluating threat.
High-Level Interest on Opening Day at DWTC
Intersec 2023 is a truly global exhibition for security, emergency services, fire, safety, policing and cybersecurity, attracting more than 1,000 exhibitors from 55 countries, including 10 country pavilions: Canada, China, Czech Republic, France, Germany, Italy, South Africa, Singapore, Turkey, and the UK.

"The high level of interest in Intersec 2023 in the build-up to the event has carried forward into an exciting opening day with great energy, dialogue, deal-making, and networking fueled by positive industry growth forecasts and increased demand for the latest solutions for safety of people, places, and a rapidly evolving cyberspace," said Alex Nicholl, Portfolio Director at Messe Frankfurt Middle East, the event organisers.
"This is a truly global gathering, spanning security, emergency services, fire, safety, policing and cybersecurity and for the next three days is the place to be to learn, explore, and examine the full business potential of an exciting industry that is growing at an exceptional pace."
Intersec runs until January 19 with dedicated product showcases for commercial and perimeter security, homeland security, fire and rescue, safety and health and cybersecurity, special features, and a powerful conference and knowledge-sharing programme.
Key highlights for day two of the Intersec Conference include a keynote session from Dr Bushra Al Blooshi, Head of Research & Innovation, Dubai Electronic Security Center, titled "Pioneering Digital Economy: Integrated & Innovative Smart Secured Services Ecosystem", and a session on "The Present and Future of Hybrid Cyber Warfare", with Sultan Al-Owais, Digital Lead at the Prime Minister's Office.
Intersec 2023 will also recognise the best of the security and safety industries through its awards programme, which has attracted 1,256 entrants – of which 54 have been shortlisted for accolades to be presented at a gala ceremony at the Ritz Carlton DIFC on Wednesday, January 18.
Intersec 2023 is supported by Dubai Police, the Directorate General of Dubai Civil Defence, Dubai Municipality, the Security Industry Regulatory Agency, the UAE's Cyber Security Council and 
Dubai Electronic Security Center. The event has a comprehensive sponsor portfolio which includes NAFFCO, Saudi Arabia's National Security Services – SAFE, Dahua Technology, Hikvision, Digifort, Western Digital, Ateis VELOX, Commport, Monitoreal, Honeywell, PERCo, FM Approvals, Huawei, Cellebrite, NX Digital Technology, Onvif and PricewaterhouseCoopers. It will be open to trade visitors only daily from 10am until 6pm.