About the Cyber Zone

Hosted by UAE Cybersecurity Council, the 24th edition of Intersec with a dedicated area for cybersecurity vendors and technology experts, including a dedicated future defenders hack arena, and a three day comprehensive conference, was driven by UAE government's vision to keep industry, government and businesses safe and secure.
The UAE ranks 5th in ITU's 2020 Global Cybersecurity Index, while jumping 33 places owing to its advanced awareness about the importance of cybersecurity. Cybersecurity has increasingly become an imperative for governments and companies as digitisation gathers pace as a result of the pandemic, with digital criminal activity increasing. The UAE has taken various steps to strengthen its cybersecurity framework, particularly within the government entities.
The 2nd edition of Cyber Zone at Intersec 2023 was bigger and better, hosted more engagement among cyber professionals from around the world and provided a unique platform for knowledge sharing and valuable key learnings from industry experts.
Our official government supporters UAE Cybersecurity Council, Dubai Electronic Security Centre (DESC) and ITU, play critical roles within the cyber zone encouraging bilateral cooperation and intelligence along with exploring new opportunities and challenges within global cybersecurity.
The Future Defenders Hack Arena was our all new purpose built feature that delivered specific tracks for school students, universities and CISOs. Teams and individuals could participate through registration on our website and winners would receive prizes and recognition from industry's leading bodies.
Our dedicated MoU signing area hosted government and industry, as Intersec provided the platform to officially announce new ground breaking partnerships to kick-start 2023. 
Highlights
Layers of Engagement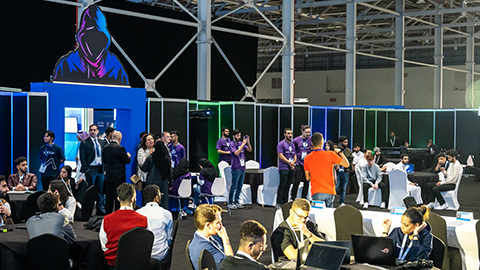 Future Defenders Hack Arena
2023 Cybersecurity Awareness Sessions

Considering today's advancing technology, cybersecurity is an absolute necessity for businesses, especially with remote working culture and digital transformation. A recent analysis show that Cyber fundamentals fail to exist, which can cause major security and financial issues which would have been completely avoidable.
The Cybersecurity awareness session was hosted to learn more about essential cybersecurity measures, alongside fundamental tips to become more secure, including The 5 Pillars of Cybersecurity Hygiene.

Initiatives Information and key messages:
During the prestigious event, a one-of-a-kind Cybersecurity awareness session was organized under the initiative "Cybernode"- a partnership between DESC and Thales.
Cybernode was launched under DCIPark, which aims to up-skill the cyber workforce in the UAE and beyond, towards achieving a safer cyberspace. DCIPark, however, provides world-class cybersecurity trainings, crash courses, advanced scenarios, in addition to 2 programs: Certified CISO Executive Program (targeted for employees with more than 5 years of managerial experience in the information security field), and the bootcamp (targeted for graduates and entry level employees aiming to enhance their cybersecurity skills).
Supporting Association