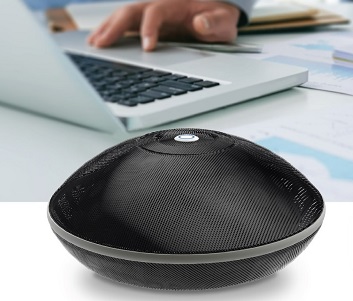 The UNG52 is the latest, most innovative speech/voice available today. With it, you can now ensure that your confidential conversations stay private and minimize the risks of eavesdropping and malevolent recordings. Enjoy peace of mind and privacy, at the push of a button.
Key Features
Unique Hemispherical Protection. Once activated, the UNG52 creates an imperceptible bubble around itself, effectively insulating you from unwanted listeners.
Dual Protection Options, for optimal security. In its stealth mode, the UNG52 generates a continuous ultrasonic wave -inaudible to human hearing- which saturates the microphone, rendering any recording useless. But for maximal protection, the UNG52 uses your own vocal frequencies, broken down and scrambled, to create an impervious defense, making audio clean up virtually impossible.
Updatable in real-time. As new microphones, cleaning software and technological innovations are being constantly released, the UNG52 is being continually and thoroughly lab-tested to guarantee the highest level of coverage. And as the improvements are being made, they will be sent to you directly, through software updates.
Control multiple units through user friendly, Bluetooth encrypted smartphone app.
Simple, straightforward device, aesthetically designed to seamlessly blend in your professional environment.
Problem Solved
The UNG52 creates confidential zones to prevent verbal information leaks. How do you ensure that your sensitive conversations stay private? A single leak from a critical meeting can possibly destroy careers and ruin reputation. Spontaneous recordings have never been easier to make now that almost everyone owns a phone, tablet or portable computer equipped with a high-performing microphone. And with the rise of the Internet of Things (IoT) and its connected devices, an already worrying problem is sure to take alarming proportions. So Santor tackled this pressing issue and came up with a simple and elegant answer: the UNG52. Effectively shield yourself against undesirable, ill-intentioned listeners with the most cutting edge speech/voice protector available. The UNG52 is the definitive solution when it comes to voice/speech protection; unparalleled technological innovation in a tasteful, user-friendly platform/device.
Key Innovations
Looking to avert/avoid the loss of critical spoken intelligence? Your main option would be inexpensive white noise generators. But not only these are known to be ineffective solutions (recordings can still be cleansed), these old, entry-level gadgets are not the kind you would want on your desk or in your conference room. The more sophisticated alternatives include heavy headphones sets with microphones that must be prepared and wore by the speakers to both protect their conversation and understand each other. Beyond the inadequate coverage white noise technology provides, these are cumbersome contraptions. Overcoming all these challenges and more, the UNG52 doesn't just deliver the highest level of protection available, it made it easy and convenient. It stands in a category of its own, completely redefining what could be expected from a voice/speech protector [acoustic/audio frequency jammer].
For further information, visit website