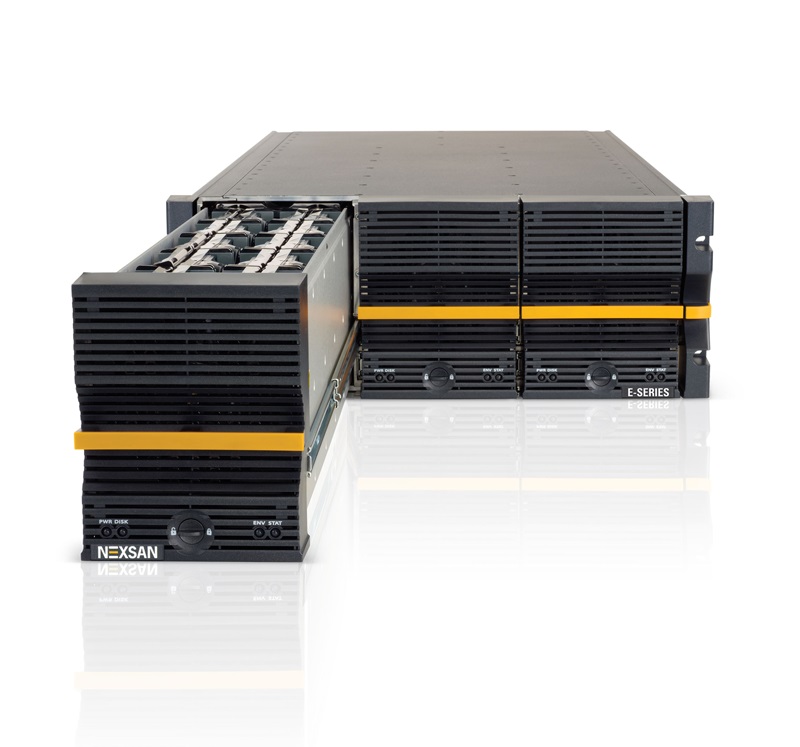 The E-Series storage array from Nexsan provides up to 720TB in a 4U configuration and up to 7.2PB in a single rack, with the ability to intermix capacity-optimized HDDs and performance-optimized HDDs and SSDs to meet specific surveillance requirements. Unlike other high-density arrays, the E-Series is purpose-built to deliver extraordinary reliability when operating under 24x7 workloads in often less than ideal locations.
Benefits
Easy DVS Storage Management: E-Series is up and running in minutes and managed with simplicity through an intuitive, single-pane-of-glass interface, even when remote. Innovative ease-of-use functionality makes it easy to deploy, manage and maintain.
Superior DVS Storage Performance: A single E-Series can record digital video surveillance at a rate of 5.4GB/s and has been specifically designed to handle hundreds of parallel surveillance streams from high-resolution video sources without frame-drops.
DVS Storage Uptime: E-Series includes Cool Drive and Active Drawer Technologies, that when coupled with an anti-vibration design, produces a highly reliable DVS storage system that contributes to an always-on surveillance operation.
Lower DVS Opex: E-Series delivers up to 87% reduction in power and cooling, lowering operating expenses and extending overall life of the system.
Reduce DVS Storage Total Cost of Ownership: The unique E-Series chassis design reduces scaling complexities. Deployments are simple; require less cabling, less rack space and less ongoing administrative costs.
For further information, visit website