AXIS Q8742-E Bispectral PTZ Network Camera

VGA thermal and visual surveillance in one
AXIS Q8742-E Network Camera is a positioning camera that brings a powerful – and cost effective – combination of visual and thermal video streams in a single PTZ camera to border surveillance and other applications with similar requirements.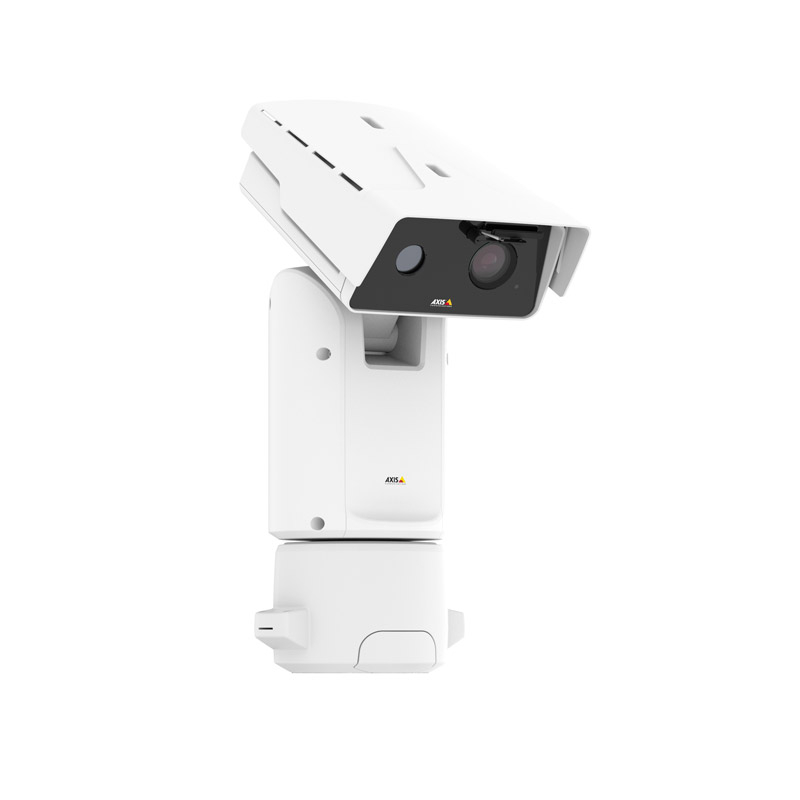 A winning combination

AXIS Q8742-E gives you two excellent cameras in one: a thermal camera with outstanding contrast in 640x480 resolution for reliable detection and verification around-the-clock and in all weather and light conditions. And an exceptionally light-sensitive visual camera in HDTV 1080p with integrated 30x optical zoom for identification purposes.
The visual camera also has Wide Dynamic Range – Forensic Capture for clarity and detail in scenes with both dark and light areas. And Focus recall for instant focus in areas you define. With AXIS Q8742-E Zoom, you get 3x thermal zoom allowing you to detect a human as far as 3 km (3342 yards), according to Johnson's criteria.. See the detection range table below for detailed information. The long-distance detection is useful for mission critical usage, such as detecting vehicles or intruders from far.
Swift, smooth 360° coverage
AXIS Q8742-E lets operators choose between really slow or super-fast pan (from 0.05 to 120 degrees per second) and tilt movement (from 0.05 to 65 degrees per second). So, they get smooth and jerk-free panoramic viewing when they need it and can respond quickly to events. The camera can be column-mounted, on poles or walls for a 360° panoramic view and a ground-to-sky view from -90° to +45°. It can withstand high winds when it's standing still and winds of up to 37-meter per second (83 mph) when it's in motion. And an SFP slot means it supports long-distance fiber-optic connection.
Single-unit savings
AXIS Q8742-E is a highly cost-effective solution. You need just one camera and one IP address to benefit from long-distance thermal detection, visual identification and PTZ capabilities. Which means lower purchase, installation and operational costs. In addition, Axis Zipstream technology reduces storage and bandwidth needs with up to 50% or more while ensuring that important details are captured in full image quality.
Fast and easy
Its slim design and many available accessories let you install it anywhere you want. It has an SFP slot, so it supports cost-effective, long-distance fiber-optic connection . And maintenance is made simple by a remote-control cleaning system that features long-life wipers. A 22 meter (72 feet) long, heavy-duty power cable is available as optional accessory. Designed for outdoor use, the cable has 3-wire, 12AWG and a jacket diameter of 10 mm (0.4 in).
For further information, visit website
AXIS Q1645-LE Network Camera
High-speed video with 1/2" sensor and OptimizedIR
With its 2 MP resolution, AXIS Q1645-LE Network Camera is engineered for light sensitivity that's absolutely second to none. An advanced, outdoor-ready camera that's sharp in more ways than one, it delivers high-resolution video at full frame rate for crystal-clear images. And OptimizedIR ensures high-quality, low-noise video, even in completely darkness.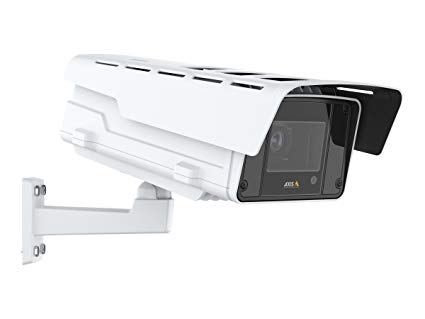 Capture more light – always
High resolution. Full frame rate. Unparalleled light sensitivity. That's the difference between an image that's sharp and one that's razor sharp in any light. Simply put, AXIS Q1645-LE is a camera that's second to none. With 2 MP resolution at up to 120 fps, the 1/2" sensor and Axis Lightfinder capture more light than ever and enable outstanding image usability even in poor light. Plus Axis Forensic WDR ensures perfect balance in scenes with strong variations in light. And you get electronic image stabilization (EIS) as well.
Rough and ready
With a robust aluminium casing, AXIS Q1645-LE can handle start-up temperatures as low as -40 °C and as high as 60 °C (-40 °F to 140 °F). And with IP66, IP67, NEMA 4X and IK10 ratings, you can be sure that the camera housing is resistant to both harsh weather conditions and impact. Plus, it features powerful IR for effective surveillance in pitch darkness. It even sports defog functionality that automatically filters out fog to provide clearer video.
That's one smart camera
AXIS Q1645-LE is chockfull of intelligent features that facilitate smart decision- making, enhanced security, first-class image usability, and fast, easy installation. It comes preinstalled with AXIS Motion Guard, AXIS Fence Guard and AXIS Loitering Guard analytics for proactive surveillance and saved resources.
And an orientation aid enables dynamic overlays with street names and a compass symbol for quick orientation if you're using multiple monitors.  And you can choose between three scene profiles, which automatically optimize exposure time, white balance, aperture, sharpness, contrast and noise for every camera in your surveillance solution to suit specific use scenarios.
In addition, intelligent i-CS lens technology facilitates fast and easy installation and adjustment, which helps minimize time and money spent on installation.
You can even fit other CS mount lenses in the housing, for instance light sensitive Ricom 2 MP Lens DC-iris 8-26 mm F0.9 for handling extreme low-light scenarios.
For further information, visit website
AXIS P3717-PLE Network Camera
8 MP multidirectional camera with IR for 360° coverage
AXIS P3717-PLE lets you easily cover four different areas with a single camera, around the clock and even in challenging lighting. You'll be able to count on both excellent overviews and detailed coverage thanks to the brilliant design of this cost-effective solution. AXIS P3717-PLE is perfect for large indoor and outdoor areas like stores, shopping malls, warehouses, parking lots and lobbies. It's also ideal at hallway, aisle and road intersections and at the outer corners of buildings.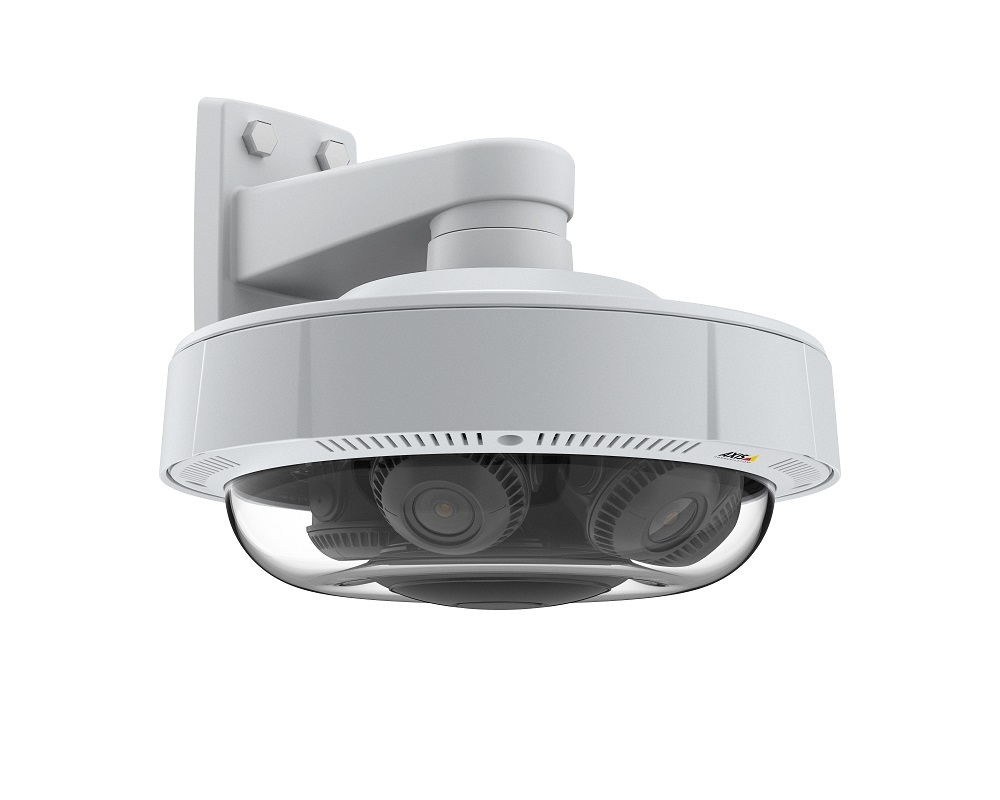 Wide areas and great images – day and night
AXIS P3717-PLE offers four channels with 2MP per channel, at a frame rate of 30 fps. It features Lightfinder for color images recorded in near darkness. And Forensic WDR for clarity when there are both dark and light areas in the scene.
Plus, AXIS P3717-PLE has 360° IR illumination with individually controllable LEDs and an automatic IR cut filter. So you'll enjoy clear, reflection-free footage in low light or complete darkness and undistorted color during the day.
One camera for the coverage of four
The beauty of AXIS P3717-PLE lies in its design, with four varifocal camera heads that can be moved and rotated to capture scenes in various directions in wide or zoomed-in views.
AXIS P3717-PLE delivers a 360° overview or a combination of overviews and close-ups depending on your needs. In addition, the camera's sensors can be twisted, allowing two camera heads to be positioned closer together, so one can take the wide view and the other can zoom in on the same target.
AXIS P3717-PLE is compact (250mm in diameter) and discreet. And recessed installation is possible. Plus, the network camera is also weather resistant thanks to an integrated weathershield with an IP66/IP67 rating. Designed for mounting on ceilings, AXIS P3717-PLE comes with a ceiling bracket. It can also be mounted on corners of buildings or on poles and parapets using AXIS T94N01D Pendant Kit, which is sold separately.
Four cameras for the price of one
With AXIS P3717-PLE, you get the benefits of four cameras, while paying for just one. That means there's one camera to install, one cable to draw, and one IP address, one video management software (VMS) license and just one license for any analytics you choose to install.
Plus, AXIS P3717-PLE offers remote zoom and focus for fast, accurate installation. And Axis Zipstream technology for savings of up to 50% on bandwidth and storage. The bottom line? AXIS P3717-PLE will save you money on both initial installation and long-term operations.
For further information, visit website