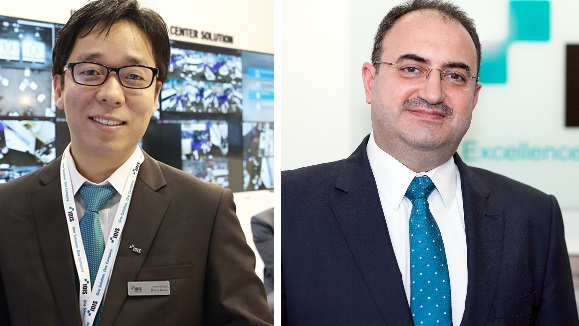 IDIS has a long association with Intersec – what are your plans for the show in 2019?

Kwon: Intersec will offer IDIS a unique opportunity to unveil and showcase the latest advances in secure surveillance technology.  

Important innovations on show will include: IDIS' flagship DirectIP® solution; a full array of IP cameras (including full-HD and 4K), new powerful 8400 series network video recorders, network accessories and monitors; our new IDIS Compact Solution line up; pioneering IDIS Dynamic Privacy Masking to support user compliance with privacy regulations; IDIS Center, which typically delivers 50% cost savings on centralised monitoring systems in comparison with server-based solutions; and game-changing AI.

With the creation of the General Department of Artificial Intelligence Dubai Police GHQ, our latest iteration of IDIS Deep Learning Analytics (IDLA) technology is already exciting the market. IDLA has opened a new door to the future of video analytics with ground-breaking 96% accuracy combined with a 200ips speed allowing for the analysis of 32 channels simultaneously.

Visitors to the IDIS stand will also find the recently launched IDIS Compact Solution series, which is designed for rapid, single and multi-site roll out and allows users to mix and match analogue and IP technologies, making upgrades and system extensions simpler than ever. These price competitive and particularly neat products, combine great performance with deployment flexibility, making them a perfect choice retail chains, the hospitality sector and countless mid-sector business applications.

We will also use Intersec to launch new products including the latest advancements on our most popular products the 5MP and 12MP Super Fisheye cameras.  The latest 12MP iteration will feature an Immervision panomorph lens for improved peripheral resolution and clarity, while the 5MP fisheye will be available as a compact model perfect for smaller applications and installation in confined spaces. 
You've also established new end customers via partners in Qatar, Bahrain, Saudi Arabia and Egypt through your participation at Intersec in previous years – can you elaborate on these customers?

Al Asfar: Many of our system integration partnerships resulted from engagement and introductions made at Intersec and we can track this back since our first appearance at the show in 2014. These include Almajal G4S in KSA, Almoayyed in Bahrain and EMS in Egypt to name but a few.  The result is an extensive and broad range of successful deployments of IDIS technology across government, education, retail, banking and many other commercial organisations.  

We have announced an extensive agreement for the Middle East and Africa with Mindware, a value-add IT distributor that encompasses the company offering the entire IDIS line up. The deal means that for the first time, Mindware can offer its channel partners a single supply route for high-level video surveillance installations and turnkey applications, covering both IT and security. For IDIS the agreement has significantly extended our reach across the region and opens an essential sales channel to specialist IT network integrators.
At the show in 2018, you showcased your next generation 12MP Super Fisheye? Any projects you can speak of in the last year or so where this has been utilized?

Kwon: IDIS Fisheye cameras are proving mission critical for Al Sulaiman Jewellers in to order to comply with the Qatar government's rigorous security policies, which are implemented by the Security Systems Department of the Ministry of the Interior (SSD-MOI). Since the original IDIS deployment more fisheye cameras have been added or upgraded to the latest 12MP models in the company's prestigious showrooms.  The IDIS Fisheye's superior 360 coverage is ensuring this high-end jeweller protects against security risk and ensures both staff and clients feel at ease. 

Al Asfar: In addition, a large Middle East company operating 100s of restaurants as well as manufacturing and distributing food across the region is currently rolling out the IDIS 12MP Super Fisheye at its factories, logistics centres and food outlets. 

What's more we'll be launching our latest fisheye advancements at Intersec, which include improved peripheral resolution through an upgraded Panomorph lens on the 12MP model and a new 5MP compact model perfect for smaller applications and installation in confined spaces. 
You've mentioned that banking, education, aviation, hospitality, law enforcement, real estate, shopping & retail, and transportation industries are among the industry verticals that IDIS sees most opportunities for its business in the Middle East – why is this and can you provide case studies of recent projects that you've been involved specific to these verticals?

Kwon: We've continued to build out vertical market solutions by developing and launching new products, technologies and developing off-the-shelf integrations.  As such this has supported our expansion into sectors that include banking, education, hospitality as well as other commercial sectors. 

For example, IDIS technology is now an approved banking surveillance solution in the Kingdom of Saudi Arabia (KSA) following Almajal G4S's successful implementation at The National Commercial Bank, which was the first bank to comply with Saudi Arabian Monetary Authority (SAMA) standards.  

In addition, we've continued to see success in the UAE and Bahrain with IDIS surveillance implemented by Almoayyed including the Al Madina Al Shamaliya Sewage Treatment Plant, ISA Culture Center and M-Tower. In the KSA, Almajal G4S has also recently completed an IDIS implementation for the Tokyo-Mitsubishi Bank.

These large and high-profile projects have created the momentum to support partnership agreements with two of the largest distributors in the region; NIT, an Ingram Micro Company that offers IP surveillance and security solutions and most recently Mindware, a value-added IT distributor.
Where does the Middle East sit for IDIS as a global market for commercial security?

Al Asfar: We are hitting double-digit sales growth year-on-year and continuing to increase our market share and geographical reach by expanding our sales channel.

Much of our success can be tied to the IDIS value proposition, which is perfectly suited to Middle Eastern and African markets in terms of quality, reliability and high-performance combined with fast and simple installation, ease of use and scalability.

Today IDIS is considered a prestigious brand in the region and a company that offers true end-to-end solutions, and this clearly differentiates us from other surveillance manufacturers.

In addition, the IDIS ethos of integrity and building long-term and mutually successful partnerships are proving to be instrumental to our success. The IDIS business globally believes in a very clear and transparent sales channel strategy that is designed to add value across the security buying chain.  This means we generate profitable success for our distributors and systems integrators.  And that clearly sets us apart from other big surveillance players.

Kwon: Since our brand launch in 2014, we have focused on developing close relationships with integrators and collaborating with them on high profile projects in a range of sectors. In the last year, these relationships have opened new opportunities and extended our reach into countries such as Jordan, Kuwait, Egypt, Algeria and Kenya. Adherence to various regional compliances has also been crucial to our growth and continues to generate new business.   This growth and geographical expansion are now underpinned with new distribution partnerships that generate volume sales.

So, we can confidently say that our strategy is paying dividends for both IDIS and our partners and we are confident it will continue to do so in the future.  
What are the latest facial biometric technology developments in your company and where do see the opportunities in this particular area?
Kwon: IDIS partners with specialist facial recognition vendors and we are certainly seeing opportunities for applications for public safety and law enforcement.  However, customers are demanding analytics that go beyond standalone facial recognition.

IDIS does not launch technology to make headlines.  We develop and bring to market products and technologies that offer real-world benefits. Every year IDIS partners from across the world gather at the IDIS Global Partners Summit at our headquarters near Seoul, South Korea.  During a program of interactive sessions and discussions IDIS listens to its partners and drives the IDIS product roadmap accordingly.

In the last couple of years, a plethora of manufacturers have launched AI and Deep Learning applications.  As is common when new technologies are brought to market there has been much hype and countless promises.  Yet reports suggest that accuracy and speed are proving to be poor, implementation and usability is complex and time consuming.  In addition, the way in which these offerings are packaged and priced combined with the need for additional processing power puts them out of the reach of most surveillance users.  IDIS partners and their customers demanded a new approach.

Causing much fervour in the market is our latest iteration of IDIS Deep Learning Analytics (IDLA), which has opened a new door to the future of video analytics with ground-breaking 96% accuracy combined with a 200ips speed allowing for the analysis of 32 channels simultaneously.

These exciting advances in video analytics make IDLA more accurate, faster, and more scalable than competitive offerings. It provides agile appearance searching, object detection and classification (for example people, cars, and bicycles) intrusion detection, and loitering detection—all adapted to fit a 16:9 ratio. The IDLA engine offers this unrivalled accuracy thanks to its advanced deep network architecture. Yet, IDLA is easy to set up and use, with no calibration required, simply by setting the region of interest and sensitivity.

Al Asfar: Further, since IDLA does not require additional processing power users can progress legacy hardware and cameras to transform their existing surveillance system into a powerful AI solution. Version 2.0 will be commercially available in early 2019, and users will be able to access both standard and advanced functionality, such as appearance search, through a single and affordable licence.  Object detection and classification, intruder detection and loitering analytics are already utilised by users of our IDIS Solution Suite video management software.
Anything else you'd like to add?

Kwon: Its important to note that IDIS's participation at Intersec has been strategic in the success of our business in the Middle East and Africa.  Until our brand launch at Intersec in 2014, IDIS was unknown outside of our ODM customer base.

The arrival of a new surveillance brand from South Korea on the Intersec show floor compelled many systems integrators, consultants, distributors and end users to visit the IDIS stand. They quickly saw a next generation approach to surveillance and found a cohesive team of people from a company they could trust.  Today many of those same visitors are our long-term partners and customers - all benefiting from working with IDIS.

Each year we have successfully continued to use Intersec to communicate the values and ethics that we respect as a company and hands-on demonstrate our complete line up of products and technology.  

Al Asfar: Intersec also provides the perfect platform bring new products and technologies to market in a unique environment with the entire security buying chain under one roof together with representatives from the world's security media.

Much of our continued growth, partnerships and customers in the region are a result of our participation at Intersec.