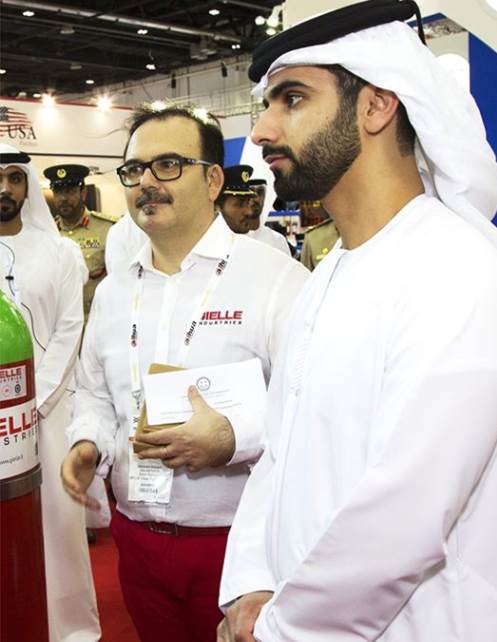 Our association with Intersec
Gielle has been participating and sponsored for more than 10 years at the Intersec trade fair with satisfaction, as it believes that this is the most important event in the Middle East.
Intersec is the most important business platform worldwide and in the MENA region, and for this reason, Gielle is proud to have sponsored the event no. 1 on the subject of safety in the world.
Our showcase for Intersec 2019
For 50 years Gielle has been a leader in fire fighting and we have the honor to present our new installation on the base of Novec1230 fluid firefighting system for extinguishing fires.
The Gielle firefighting system can replace, without significant modifications, old systems using Halon, Halotron IIB, FE13, carbon dioxide and water mist also on board ships.  
What makes Gielle unique?
Gielle's Novec 1230 fire suppression system uses an inert carbon-based chemical that powerfully fights fire yet is safe for property, people, and to the environment.
It looks like water but does not cause the damage normally associated with water because it contains no moisture. The result is lower repair bills and less impact on business. The innovative Gielle solution can detect the development of fire in a few seconds, extinguish it automatically and rapidly and, as a result, limit damage to a minimum. It also has a series of benefits for the environment and in other areas.
Our Middle East projects
Gielle has built many systems offshore and onshore: in accordance with the relevant type approval procedures of the Marine Equipment Directive (MED), also offers engineering services such as capacity calculation, operating instructions, and fm200 and Novec flow calculations.
Clients found at Intersec
An imported project gave life to the Gielle Novec, activity certified by international organizations, and all the activities it carried out, for naval Vessels, including:
The design, installation and maintenance of firefighting systems and ancillary works
Installation, dismantling, refurbishing, testing and maintenance of pressurized containers and their accessories;
The design, manufacturing and maintenance of firefighting systems, container valve assemblies and accessories, for naval vessels
Our most important industries and markets
We're exporting to more than 100 countries from the UAE, and we've gained a lot of trust in the market. Our products are specified for all industries, from oil and gas and buildings to malls and high rise buildings.
We're contributing to the fire and safety worldwide not only in the UAE. We sit as a counsellor in different boards. So, in our journey of thirty years, I can say that I'm satisfied with steps being taken, but there is a lot yet to do.
Key market trends shaping the future
The flexibility of the Gielle firefighting system, together with its considerable extinguishing power, makes it possible to reuse partly or completely piping already installed in the old systems after verification with special software.
Gielle is authorized to be an "Halocarbon Bank" in the world, we are able to do the maintenance, contribution to major repairs, all test and "door fan test" everywhere in the world thanks our specialized team and operational office present in the world.